Going virtually insane with running your VR content?
Enter a new reality: manage it all with one simple click.

The Virtual Reality Content Management System:
A Virtual Reality Content Management System, in short VR CMS, is where you can gather, archive, and analyze your VR content – all in one central location. Your headquarter for all things VR, so to say. 
The Smart VR Lab CMS takes it one step further: create and edit your VR material to make it interactive and use the built-in tracking tool to measure progress.

The smart CMS solution for VR training on your Oculus Headsets.
How to be content with your VR content?

Organizing and distributing 360 videos, images and VR apps for your Oculus Headsets never was easier.
Do a 180 with your 360 videos:
Create  interactive 360 video and add gadgets like multiple choice questions and extra info effortlessly.
On the right track!
 Ready for truly immersive learning scenarios? Become the tracKING and gain insights into the scores of your employees or students.
Looking for an easy, stress-free user experience?
Let's inter-face it and...
... distribute content directly
Able to distribute without a cable?
If that idea clicks with you, we are happy to tell you: you can now publish content to any of your devices with one simple click. Save time and patience with our Virtual Reality Content Management System.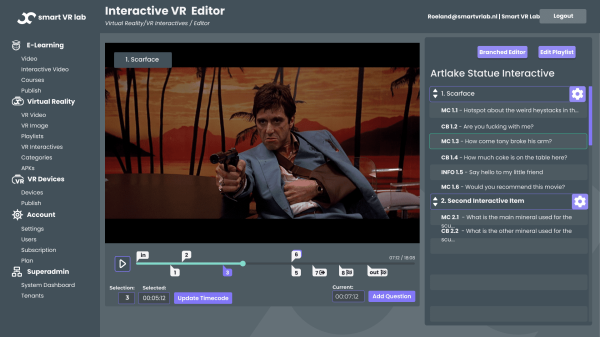 ... create immersive experiences
Hinteractive: it's getting interactive.
Build and edit interactive video content in the user-friendly editor. Incorporating multiple choice questions, checkbox items and additional information takes only a second and makes VR training easier than ever.
It's head-settled: Manage your VR Headsets on our interface. Publish 360 videos, images and VR apps directly onto your devices.
No need to outsource: Create and edit interactive 360 videos by inserting multiple choice questions and other items.
.
The Smart VR Lab app will run automatically after launching your device. Navigation is made easy from the beginning.
Stay in the clear: Organize your own content and get access to content by others. Oversight, out of mind, or so they say. 
Access to success:
Give different users different corresponding permissions to oversee access to features.
Don't loose track: Connect your LMS to Smart VR Lab and keep track of all scores of students and/or employees.
Regular, but not at all basic: Manage, host and publish regular video. Create interactive videos easily – all with the same editor!
You own the narrative. Create interactive storylines with branched narratives to create more immersive learning experiences.
In sync: Start content and apps simultaneously on all connected devices, so all can learn at the same pace.
*Beta version coming soon
For a free 4-week trial, demo or simply more information, please leave your email.
Smart VR Lab is developing a custom 3D brain dissection app for the VUMC. Our collaboration has been very enjoyable. I was impressed by their expertise, efficiency and, especially, their creative and solution-oriented approach.
Smart VR Lab helped us to implement Virtual Reality in Spaarne Gasthuis. With their support we produce and manage our own Virtual Reality content and Smart VR lab is ideal for managing VR hardware in a time and cost efficient manner.
There's more? There's more!
To leverage the full power of VR in your workforce you need high-end content. Our team of experts will help you plan, shoot and produce your custom-tailored VR content.
Custom Software Solutions
We have built custom Virtual Reality, Augmented Reality and 3D applications. Get in touch for more information.
The next blogical step? Read our latest blog entries!